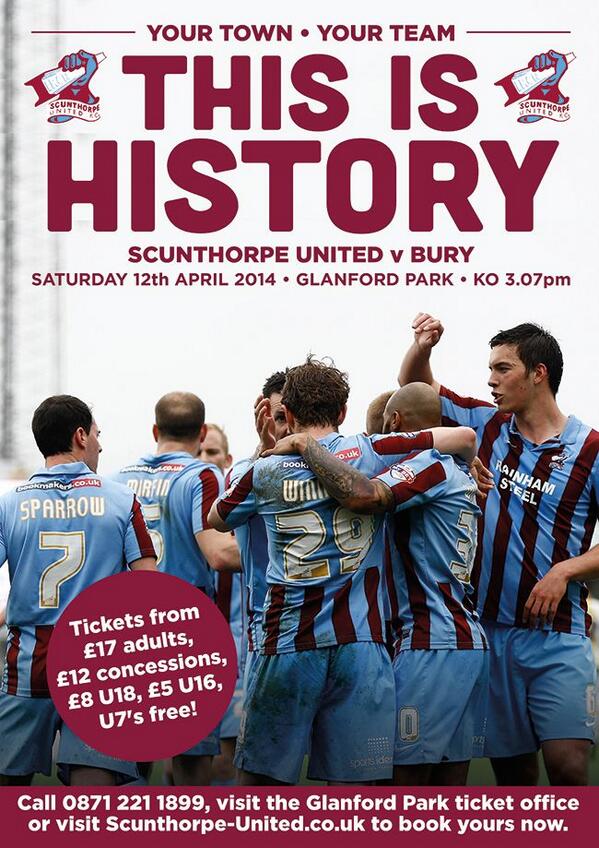 So we are now well and truly at the 'business end' of the season. 5 left to play and everything to play for! 
Tomorrow we welcome an in-form Bury to Glanford Park who will be hoping to stifle our promotion chances whilst also strengthening their slim play off hopes.
Bury have risen up the table in the last few weeks under David Flitcroft. I watched them on Sky Sports when they faced Rochdale a little while back and I was quite impressed with them, so I can't say I am overly surprised to have seen them rise to 11th. 
3 points and a loss for both Burton and Fleetwood would mean we could potentially be all but mathematically promoted should we defeat Morecambe on Friday and other results go our way. Judging by the remaining fixtures for our promotion rivals I firmly believe 2 wins out of 5 would be enough to stumble across the line and guarantee the automatic spots – But we have come this far so I cannot see any reason why we cannot go on and win all 5 and secure the title in the process. 
When we lost to the Codheads in the FA Cup who can honestly say they saw this coming? 25 unbeaten.. Football league record for games unbeaten under a new manager AND now we have equalled a world record for that same stat – Meaning coming out of tomorrow's game without defeat would see us hold a WORLD RECORD. I will hold my hands up and say that after that morale busting loss at home to the fish fondlers I would have settled for mid table. I would have been happy to be safe in League 2 for another year because at that time we were playing so poorly I had one eye over my shoulder looking at the possibility of a relegation battle. 
Now our standards are higher than ever and nothing but seeing the job through would be classed as acceptable. Thankfully we have a great set of true professionals playing for the claret and blue army and they will see us into League 1 without a worry. 
I will reserve my celebrations until the exact second we are mathematically up, but a team in our position and 25 unbeaten do not throw away leads like what we are in.
Call me mystic Gib but I knew we'd be back. I knew we could do it.
We stuck by the team and we as fans are now going to get our reward.
Hold onto your hats as the next couple of weeks could be bumpy but I have a feeling the champagne will soon be popping open. We are nearly there.
See you at Morecambe where I hope I am accompanied by 1800 fellow Iron fans.