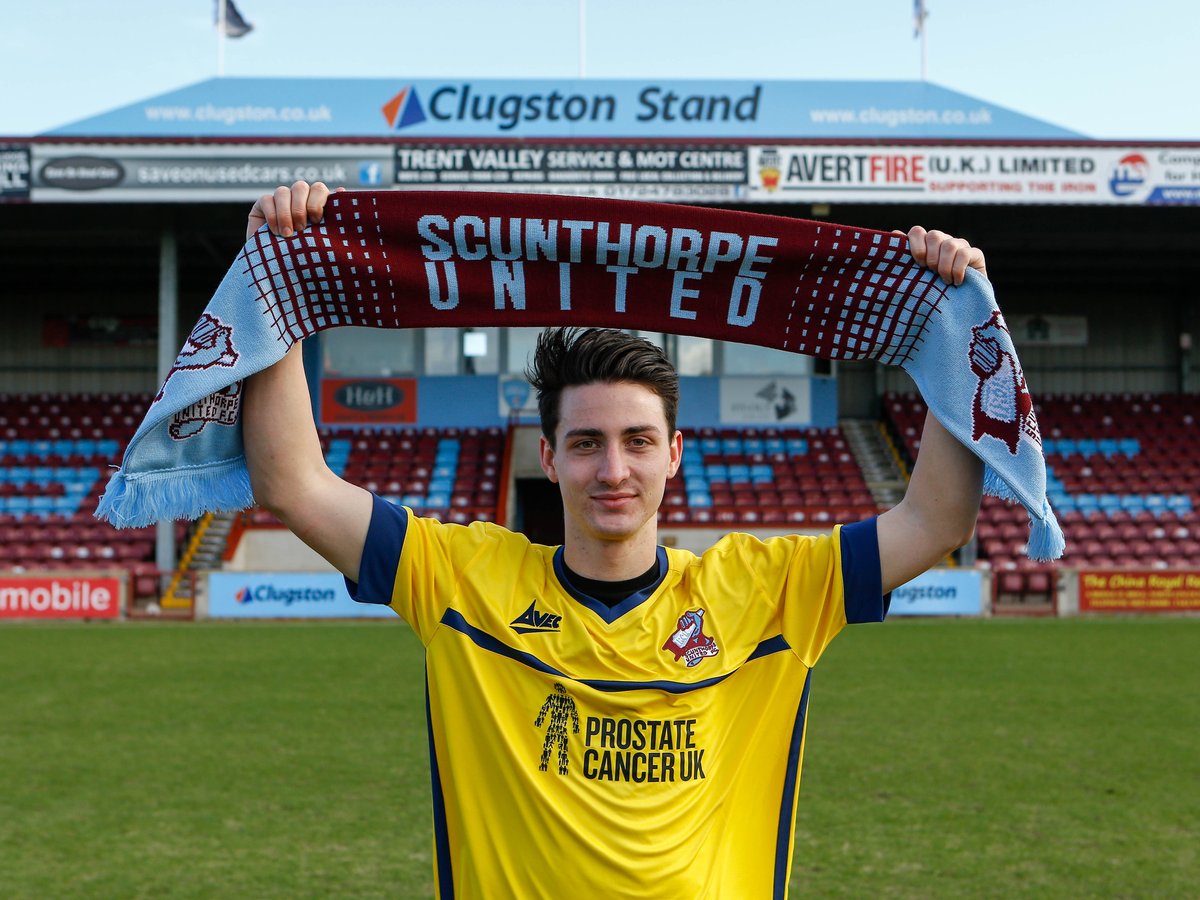 Luer holds aloft the Iron flag after signing today
Today the Iron announced the one-month loan signing of 21-year-old striker Greg Luer from local rivals Hull City.
The youngster will no doubt bring some much needed competition for places up front, with United only having Paddy Madden, Tom Hopper and Kyle Wootton as options in that position before today, due to Kevin van Veen's loan move to SC Cambuur in his native Holland.
Our official Twitter unveil the news: The Iron have completed the one month loan signing of Hull City striker Greg Luer.

pic.twitter.com/JCnZzLLz8X

— Scunthorpe United FC (@SUFCOfficial) February 9, 2016
//platform.twitter.com/widgets.js I saw some comments on Twitter stating the likes of "Why are we bringing in a young, untried player when we have van Veen out on loan." – Stop, please.
Right let's get this straight. Kev loves the Iron, and he loves the fans – there's no doubting that. We as fans have done a pretty grand job of making him fit in, and letting him know that we love him. But what has been happening (Or not happening, to be more specific) on the pitch have made him unsettled.
Mark Robins for some reason never utilised the talent that Kev clearly has – anyone that can't see how much talent this guy has is looking in the wrong places. Although Robins is now gone, the damage in terms of Kev's unsettledness had already been done.
For me, the loan was a good move for both the Iron and the Dutchman himself. He needed to go and get regular games, and when the opportunity comes along to play in the top league in your home country you have to take it.
Back to the topic, let's not judge Mr Luer before he has even kicked a ball for the club. These are the same kind of fans that judged other new signing Dom Vose too. This before either have had a chance to show us what they have got – Before they've even kicked a ball. They are the fans that give the club a bad reputation. It not only makes me cringe, it makes me embarrassed to be a fellow Iron – Sorry.
It was pretty annoying that the Donny match was postponed due to a 'waterlogged pitch' at the weekend – Did the ref not fancy getting his boots wet or something? That pitch was bloody fine.
So now we have Southend at home on Saturday, and it's a chance for a couple of the new arrivals to possibly strut their stuff – but also a big chance to continue the fine form the club have been in since Robins left, and to keep on marching up the table.
Up the Iron.