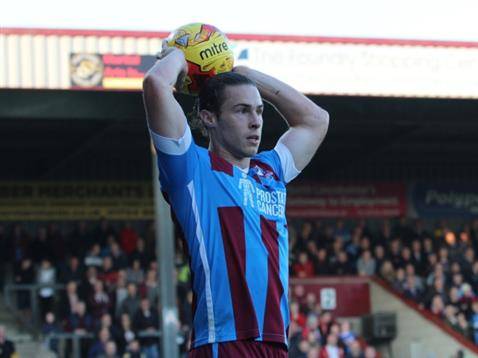 Rowe has had loan spell extended by two months
A few hours after we received the dire news that striker Tom Hopper will be missing for around 4-5 months, we were rewarded with a much needed lift in the form of a loan extension for a key performer.
Since signing on loan for the Iron from Wolves on October 2nd, Tommy Rowe has been a major part of an upturn in fortunes – and one that has seen us rise from 21st to 10th in just six games.
Five wins out of six with Tommy in the squad is not just pure coincidence, and more so a credit to the player himself bringing out the best of the players around him – and of course a lot of other players in the Iron ranks performing to their full potential.
A goal against Oldham just as United had gone 2-1 down came at a pivotal time, and helped us revive that game and come away with our first away win in months. But, that is the only goal he has scored so far, so why has a midfielder with just one goal in six games proved catalyst to our successes I hear you say?
Any Iron fans that have seen each of the matches Tommy has performed in will see why so. Even if you've seen half the of those six matches he's played in, you will know too.
From the defensive side of his game, to the tireless running and creativity going forward. Sometimes we've lacked that killer ball, the kind of cross-field ball that will open up even the best of teams in this league – Tommy has shown us he has that, more than once. He has that, and much more.
In the lead up to the penalty that was awarded in our 2-1 victory of Shrewsbury, Tommy did a Maradona turn into their box and then somehow managed to hold on to the ball, before it found its way to Bish – who was duly tripped. How many midfielders in the past five years have we had that can do that, or even have the balls to try it? He did similar on Saturday against Barnsley, a strong forward thinking run into the opposition's box that could have lead to a chance, but sadly this time it didn't end in a goal.
The news of a two month extension is huge, and gives us Tommy's influence in games over the busy Christmas period – a period that will define whether we are fancied for promotion. I say why the hell are we not good enough to really, really go for it?
As I briefly touched on earlier, of course for me to state Tommy as the sole purpose of our upturn in form would be ludicrous. The whole squad have now gelled, and are all performing at a much higher level.
Our full-back's Lairdy and Wisey have really found their feet now, and provide us with endless chances going forward from the back. Mirf has stamped his authority on why he should be in the squad every week, but the loss of Wallace (who was recalled from his loan spell by Huddersfield this week) is a blow. Bish has always been reliable, but even he has stepped it up in the last month.
A special mention to McSheffrey, who looks like he's turned back time and is playing like he did, and scoring like he did in his mid-20's. Paddy is the second highest scorer in the league, and for any team to have success – you need a goalscorer. Lucky us, we have super Pads.
Here's hoping that Hopper can recover from the operation he had on his shoulder this week sooner than reported – For Tommy Rowe to continue to influence this Iron team and take us forward – and for Mark Robins to win his duly deserved manager of the month award for October.
Up the Iron.