Glanford Park. Once known as the fortress of Scunthorpe. I remember those years in the Championship when teams feared the place. Maybe it was the look? Maybe it was the smell? Or Maybe it was the fact the pitch was smaller than any other in the league, so tippy tappy football was pretty redundant. All I know, is we were a force to be reckoned with at home, and now… Now we are scared.
We don't set up like a team playing at home, if you ask me. Robins has to start with a 4-4-2 formation and take it to teams right from the off – let them know they are in for a proper game, don't give them a minute to get a foothold in the match.
Against the 'better teams' in the division we've not performed too badly at home. Against Bristol City, the best team in the league apparently, we were incredible. I hadn't seen a performance like that at GP for years. Yes we lost, but under freak circumstances (Losing Sam and James to broken arms, didn't help the cause), and don't get me going on that dive for the penalty. Moving swiftly away from thinking about that game, as my blood pressure has only just got back to normal…
So why after that decent performance only a few weeks ago, are we now back to under-performing in front of our own fans again? The loss at home to Oldham all but ended any hopes we had of a late play off surge. That's the kind of team you should be beating at home.
Tomorrow, we welcome the divisions other 'best team' in the form of Swindon Town who will be looking to bounce back from their own loss to Oldham, last Tuesday.
But what Scunthorpe team will show up tomorrow?
The fearless one that outplayed Bristol City?
Or…
The frightful one who threw away a great chance to climb the table (twice this week) who lost to Oldham?
Let's hope for a cracking game, a big crowd – and most of all (even more important than Kevin Van Veen's first goal for the Iron) three massive, MASSIVE points.
Don't forget the offer for the game as shown in the image below: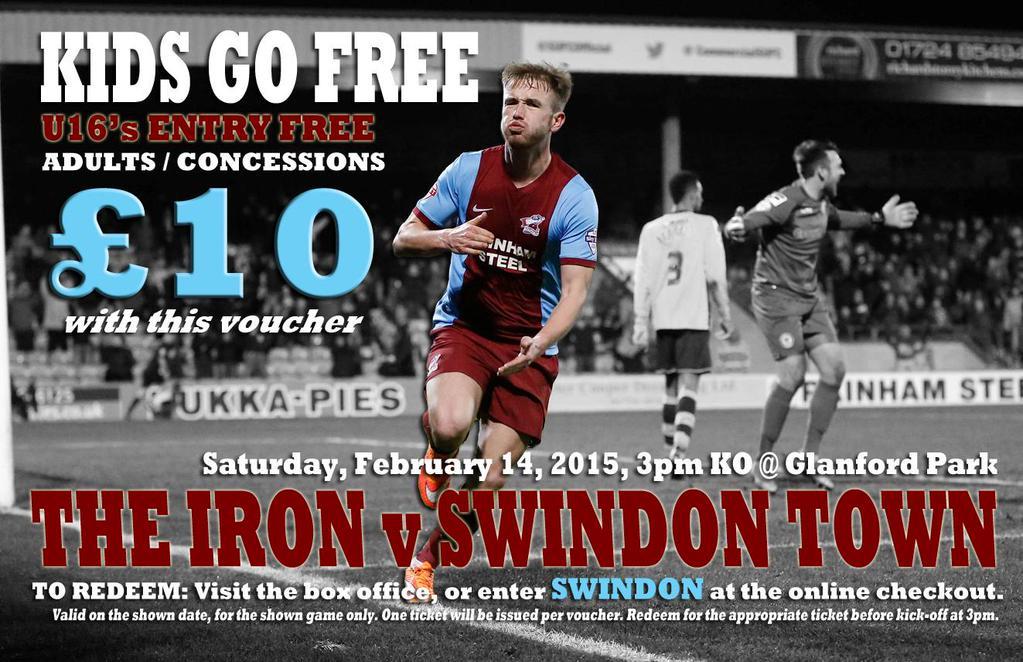 Up the Iron (Que Sera Sera)!